*******************************************
Title: Trip to London
Date Occurred: March 20 -27, 2019
Date Written: April 21, 2019
Written by: Holly Kant
Copyright (c) 2019
*******************************************
The idea for the trip came to me last summer. The St. Ignatius band was planning its biannual trip to Disney in March 2019. Despite St. Ignatius being an all-boys school, Carol is one of the sixteen girls who are in the Ignatius band Flag Corps. Carol had to make a decision if she wanted to go on that trip, as the deposit was due in late August. Two years prior, Carol had gone on the band Disney trip. Even though she enjoyed visiting Universal Studios Orlando, Disney World, and marching in a parade at Magic Kingdom, the 22-hour-each-way bus ride was unpleasant. Also, she felt she had "done" all these parks, and none of them were compelling enough to visit again. She told me that she did not want to go on the trip, but wanted to do something special for spring break. Laurel School, Carol's high school, has a two-week spring break, and most of the students are from well-to-do families that take a trip during that time. In fact, last year, Carol and I went to New York City to shop, visit some colleges (Columbia and NYU) and see a play ("Mean Girls"). Joel teaches at Cuyahoga Community College, and his one-week spring break does not match up with either of the two weeks of Carol's, so he would not be part of this trip.
I started thinking about places that would be fun to visit. I first thought of doing some college visits, but because most of the schools Carol is interested in are in New England, it is too risky to take a trip there during the last two weeks of March. Last year, they had a terrible snow storm then. I thought of Europe, specifically England. One of my pet peeves about traveling to Europe is the flights are overnights, which means you get on the airplane mid-afternoon in Cleveland and land in your destination city about 7 am. As I cannot sleep on planes, I am very tired upon landing. The first day is really a loss for me as I am too tired to do anything.
I noticed that United flew a day-trip to London so avoided the issue of travelling overnight. These were priced better than the overnight trips. Around Thanksgiving, the airfares were the best I had seen them. I asked my little sister Heidi if she wanted to come also. Heidi usually travels alone, so I thought she might enjoy a vacation with us. London has never been high on her list of places to visit, but the plane ticket was reasonable so she agreed. I bought the three airline tickets.
After I bought Heidi her airline ticket and found a hotel for all of us with three twin beds at a price that was sort-of affordable, Heidi decided that she wanted to go to Edinburgh, Scotland instead. This is a four-hour-each-way train ride from London. Carol and I thought there were plenty of things to do in London, so we declined. Heidi ended up going for one night to Edinburgh and really liked it. She ended up not liking London so much, but Carol and I liked London.
The day for the trip finally arrived. We ended up traveling on Wednesday, as the flights were cheaper. I would have to miss only one of my Tuesday classes (I was teaching a chemistry class to nursing students at Bryant & Stratton College which met only one day a week on Tuesdays). I also wanted to miss Brexit, which was scheduled for the last day of March. It turns out that Parliament could not agree on a Brexit deal, and at the time of this writing, Brexit has been delayed until the end of October. But when I was planning the trip, there were predictions that customs and air travel could be affected by Brexit, so I steered clear of that date.
We had to get up at 3:30 am to make our 6 am flight. We could not check in online because I did not have Heidi's passport and to check in early I needed to take a picture of it with an app.
Our flight to Newark was uneventful. The Newark airport has changed a lot since we were last there four years ago on our way back from Ireland. One of the really nice changes was that instead of chairs in rows, the seating arrangement was a large table surrounded by chairs. Each place at the table had an outlet to plug in electronics. It was much more comfortable than just having a chair.
Our flight to London was on time both ways. Even though I was tired from getting up early, I was not in the mood to sleep. I had brought my "Chemical and Engineering News" magazines, and when I was done with those, I read a book. Heidi and Carol watched movies instead, and I decided to try one. I ended up watching "Crazy Rich Asians," as I had recently read all three books that it is based upon. The movie was basically real-estate porn, but I enjoyed it.
All international flights have two meals. We got on at 9:30 am, so the meal served at about 10:30 am was called lunch. We were served breakfast before we got off the plane. It was about 3 pm Cleveland time and about 8 pm London time. It was breakfast somewhere in the world, but not where we embarked from or where we were going.
After we got to Heathrow, on time, we started to walk to customs. And walk. And walk. After about a mile of walking (I am not kidding about the distance), we flew through customs. We found the subway, known as the Tube or the Underground. A nice employee recommended the Oyster Card for us at the £20 level, which is the magnetic swipe card for using the Tube. I had printed directions to the hotel, and after 1 hour and two subways, we were at our station, Bayswater.
We left the station, and immediately saw a young man begging for money. He was decently dressed, and very polite, even thanking people who had not given him money. We found an ATM, and got some money out of it, but did give him any.
We walked to our hotel, arriving at about 10 pm London time. It was 5 pm Cleveland time, but we were tired and ready for some sleep. I've been told that the reason airplane travel is so tiring is because of the constant background noise of the engines.
The Garden Court Hotel was in two adjoining townhouses that were built circa 1800. The rooms were small and the bathroom even smaller. We think the hotel was owned by Russians, as all employees spoke with an Eastern European accent. Every morning there was a breakfast, consisting of toast, croissants, cereal, yogurt, hard-boiled eggs, cheese, lunchmeat, canned peaches, bananas and apples. The yogurt was not as sweet as what is sold in the US, which was a good thing. I usually also ate a cheese sandwich for breakfast, which is not my usual breakfast. There were days I wished breakfast started earlier than 7:30 am, but obviously this was a tourist hotel and tourists are not expected to be awake so early. In contrast, the hotel I stayed at for my business trip two weeks later to Clarksburg, WV started at 6 am, and I was consistently there when it started. Here, I had to be settle for breakfast at 7:30 am.
The hotel room required you to put your key card into a holder so that the electricity would work. This took some getting used to, and we had to remember to take the key card with us when we left the room.
On Thursday, Carol and I ate breakfast with Heidi, who then headed to the train station for her long trip.
Carol and I started our second adventure on the Tube. The closest station was about a seven-minute walk. At the station, every time you entered or exited a train, a recorded voice reminded you to "mind the gap between the train and the platform." At first, we really did not understand why this was such a big deal. There usually was an inch or so between the train and the platform, but it was not significant. Then at one station, the platform was about 4 inches higher than the train, and we got it. Sometimes you had to step up or down to get in or out. I heard "mind the gap" so many times during the week we were in London that I was thoroughly sick of the phrase.
During the morning and afternoon rushes, the trains were so crowded you could barely breathe, but we were lucky and often got to sit. I found that the trains were cleaner and the announcements for the stops clearer than the NYC subways. One thing I found unusual is that we did not see family groups, obviously homeless people, or musicians playing for money which are all common sights in the NYC subways.
Thursday, we planned to go to the Victoria and Albert Museum. The museum is free, but like many museums, there are paid special exhibits. In late January, Carol found a special exhibit on Christian Dior, the famous designer, that she wanted to go see. There were lots of tickets available, and I thought this was like special exhibits at the Cleveland Museum of Art, where you needed to buy your tickets about two to three weeks in advance. Boy, was I wrong! We checked about two weeks later, a month before we were to be in England, and not only were the tickets sold out for the date we wanted, but for the entire run of the exhibit which lasted until July! Unbeknownst to us, this was the hottest ticket in London. The exhibit was extended for another six weeks, and the tickets were sold out in two days. We had two choices: become a member of the museum at a high cost, or queue early in the morning and hope to get same day tickets.
We left early for the museum, figuring we needed time to navigate the Tube. We ended up getting to the museum 45 minutes early and noticed a queue. I went to the end while Carol confirmed with the employees at the door that it was the queue for Dior tickets. We were about number 30 in line and not sure if we were going to get tickets. The line grew longer and longer behind us. After a while, we started talking to the lady in front of us, a tourist from Spain who was in town with her husband who was traveling on business. Carol tried some of her Spanish out on her. Carol was able to communicate in Spanish well, confirming the value of her Laurel classes in it. When we got into the business, it was another half hour until we got to the ticket desk and got tickets for 12:30 pm entrance. Carol was overjoyed that all that queuing paid off.
Victoria & Albert is a decorative arts museum, which means it has objects and furniture from many eras rather than paintings. It is the type of museum that Carol prefers over straight art museums. We walked through several galleries, some of which were rooms that had been moved from houses that were being demolished. In most cases, we were the only people in any given gallery. There was really no time to get lunch outside the museum, plus we did not see any close restaurants, so we ate at the museum cafeteria, which was housed in a beautifully decorated room. We shared a sandwich which was not too bad. Then we got in a queue again at out allotted exhibit time. That was another long queue, and it moved slowly. I think we were in line for 45 minutes before we finally got into the exhibit.
The exhibit consisted of dresses that Dior himself had designed and artifacts of his life. He died in the 1950's and several other designers had been associated with the firm, so their designs were featured also. Dior's designs were remarkable, and so were the designs of the person who followed him and the woman who is now in charge. As for the person in charge in the 2000's, his designs were ugly in a post-modernistic way. The exhibit was worth the extra charge.
The exhibit had not been designed for wall-to-wall visitors. It was difficult to navigate, and there were people everywhere. Some small groups had to stop in front of an outfit and spend several minutes commenting about everything they liked or disliked about it. Some of the old ladies remembered wearing styles similar in their younger days. It was slow going and extremely crowded. I think fire codes were violated; if there would have been an emergency, we would have been trampled.
It was late afternoon by the time we were done with the exhibit. We had seen enough of the museum, so we walked over the Harrods for some shopping. Carol wanted to snack on macarons from Laduree, a Parisian store she had discovered in New York that had an outpost in Harrods. We got the macarons, checked out the Food Hall, and then started to look at the clothes. We discovered quickly that Harrods was on par with Saks Fifth Avenue. We were not in the mood for designer window shopping.
We got on the tube and headed towards Trafalgar Square, as our next planned event was a play at Trafalgar Studios, a few buildings south of the square. Trafalgar Square was tourist central, and the fountains were not working as it was still a bit chilly.
Even though by this time it was 4:30 pm, I suggested going into the National Gallery, a free art museum, to go to the bathroom and to take advantage of the free WiFi. Our budget cell phone plan does not even have an international option, and we did not splurge on an international SIM card with minutes, so we were always looking for free WiFi. The hotel, most restaurants, and almost every touristy spot had free WiFi, so that was not a problem. We decided to sit in a gallery of paintings (I think they were mostly Madonna and Child type paintings) and used Google to search for restaurant possibilities for dinner.
A restaurant called the Real Greek sounded good and had a three-course special for £10, a real deal. We headed over to the restaurant, only to be turned away at 5:30 pm because they were totally booked with reservations for the next several hours. What we had not counted on was the fact we were in the middle of the theater district trying to eat before a play. There were lots of restaurants in the area, including a Chipotle, but most catered to the tourist/theater crowd and were either fast food or pricy. Carol decided she wanted Italian, so we went to a local chain called Bella Italia. It was average Italian. Meals in England are not like meals in the U.S. When you get an entree, it comes with nothing else, not bread or salad or anything. The portion size tends to be much smaller also.
We walked to the theater with plenty of time to spare. The house was not yet open, so we hung out at the bar which was doing brisk business because the house opened pretty late. Another difference between the US and England is that programs are not free. We declined to pay £5 for a program, so we do not know the names of the cast or their background. The theater was small, so I bought the least expensive tickets, which were in row Q. At Playhouse Square in Cleveland, row Q is the second-most expensive seats and relatively close to the stage. In this theater, the seats were pitched more like arena seating, and row Q was pretty high up. When the house manager came to us and offered to reseat us in an unsold seat closer to the stage, we jumped at the chance. We were in the "limited view" seats, but all we ended up missing was seeing the actors climb the first few steps of the staircase, which really was not part of the plot.
The play Carol chose was "Admissions." It starred the actress Alex Kingston who had played the character River Song in "Doctor Who,"s one of the TV shows Carol watches with her dad (I am not a fan). The story was very timely, as we were in London about two weeks after the college admission scandal broke in the news in the United States. In the actual scandal, wealthy and famous people have been accused of paying lots of money to get their children into certain exclusive college.
In the play, the mom is an admissions director of a fancy New Hampshire boarding school. Over her tenure there, she has received recognition for making the student body more diverse. Her son, a senior at the school, has his heart set on going to Yale. He finds out that he did not get in early admission, but his best friend, a half-African American, did. His friend did not have the grades, test scores, or activities he did, so he is miffed, and so is his mom.
When regular admissions come out, the son still did not get into Yale. He decides to pull all his other applications and go to community college while donating the tuition his parent would have saved to a scholarship fund to make his high school more diverse. His parents are aghast: how could their son even think of going just to community college? His mother pulls a few strings and gets him into Middlebury College instead. At the end of the play, it is uncertain if he will go to Middlebury or not.
The play was good, the message was timely, but the actor who played the son was not believable. He overacted, and was obviously at least 30 years old playing an 18-year-old.
After a good night's rest and finally adjusted to the new time zone, we decided that Friday was a bum-around-town day. We like to have time wherever we travel to do something "off the beaten path" and a bit less scripted.
Carol wanted to see Kensington Palace, as she loves palaces and castles. However, she decided against going inside because most of the exhibits were in flux, so there would not be much to see. Kensington Palace was about a mile from the hotel, so we walked there. The palace itself is an ugly colored brick and not very architecturally interesting, but the small formal garden next to it was just starting its spring blooms and was pretty. (Fig. 1)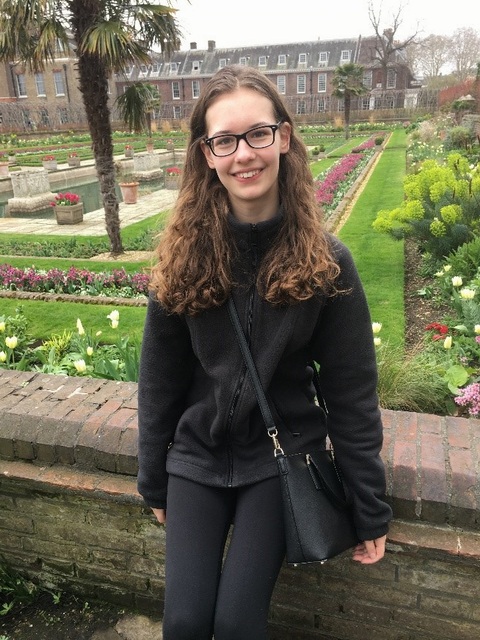 Figure One: Carol standing in the Kensington Palace Garden, with Kensington Palace in the background.
[Photograph by Holly Mayer]
The palace is not far from the Princess Diana memorial, but the memorial is mainly a fountain. Since fountains were not working as it was still too cold, we decided not to walk there.
We instead walked over to Kensington High Street where there were many shops, including a very large Whole Foods. The items were even more expensive than the American Whole Foods, and they did not have Carrs Whole Wheat Crackers which are available at Whole Foods in Ohio. I had a taste for these crackers and could not find them at the closest grocery store to my house before the trip. Strangely enough, Carrs in a British company, but the whole wheat crackers were not at any grocery store we visited in London. Believe me, we visited a lot of grocery stores. About a month after the trip, I visited the Whole Foods in Cleveland, and bought myself two boxes of the Carrs Whole Wheat Crackers and confirmed that they are indeed baked in England, but obviously not sold there!
We stopped at a TK Maxx, the British version of TJ Maxx. I cannot figure out why the J turns into a K across the pond. Carol and I both found tops we liked there.
Then, Carol saw an Uniqlo, a store that is not in the Cleveland area. She wanted to go to. She went nuts there and bought four tops.
By this time, it was 11 am, so we decided to take the tube to Buckingham Palace just to view it. The famous Changing of the Guard is at 11 am, so we figured by the time we got there, it would be over and we would have an unobstructed view of the palace. We were wrong. We got there at 11:25, just as the band was marching out. The crowds were everywhere. I was impressed by the marching bassoon. I had played bassoon in high school, and the thought of marching with a heavy, double-reeded instrument is unappealing. We barely saw the palace and decided to follow the crowds to Trafalgar Square.
Our other reason to get to Trafalgar Square was to have lunch at The Real Greek restaurant. Not surprisingly, there was not much of a lunch crowd, and we had a nice three-course Greek meal with pita bread/dip, chicken kebob and boiled potatoes (for me) and grape leaves and fries (for Carol).
Feeling very full, we took the Tube to the Museum of London. This museum was more crowded than the Victoria & Albert, mainly with schoolchildren. It was interesting as it traced the history of London from prehistoric times through the Romans, the various dynasties, to modern times. It even had the cauldron from the 2012 Olympic games. I did not remember the cauldron from the opening ceremonies, but I do remember the "Queen" skydiving from an airplane into the stadium as shown on television!
The museum was near St. Paul's, which I wanted to see up close until Carol noted on the sign by the Tube station that the last train for the day going our direction was at 4 pm. It was 3:55 pm, and if we did not get on that train, we would have had to walk to another station. We decided to take the train, leaving St. Paul's for another visit.
We arrived at the hotel and a few minutes later, Heidi walked into from her trip to Edinburgh. She loved Edinburgh. She wished she had spent more time there.
We picked a Chinese restaurant for dinner near the hotel. The food was only so-so. What surprised us is that everything was ala carte. If you wanted rice with your meal, it was separate. Obviously, we had not learned from dinner the night before that everything was priced separately.
The next day was Saturday. Heidi had planned to go to the National Gallery, but there was a Brexit protest planned to take place at Trafalgar Square so she went to the British Museum. Carol and I had planned to go to Windsor Castle all along, and it sounded like a good idea to get out of town.
We walked the mile to Paddington Station, home of the famous Paddington Bear who is memorialized in a statue on a bench. We passed an impressively large subsidized housing complex, which in the US would have been called the projects, as well as apartments that looked very nice.
The train station was very busy and we could not figure out the transit system by using the self-service terminals, so we stood in line for a very helpful (and surprisingly British) agent. We had to go on two trains to get to Windsor and it took about 45 minutes.
The castle is only a very short walk from the train station, so by 9:45 am, we were in a queue. We made the mistake of not buying our tickets online, as suggested by the Windsor website, nor did we come mid-afternoon which was the other suggestion. Most everyone else had bought their tickets in advance and headed straight towards the metal detectors. We had to wait, and it was about 11 am before we had our tickets bought and were through security, even though we were only about number 20 in line.
We decided to skip the Windsor changing of the guard, which was happening about then. We headed straight towards the royal rooms that are open to the public. Some of these state rooms and historical rooms are original; others were destroyed in the 1992 fire and rebuilt. There was an audio tour that we followed.
We then walked over to St George's Chapel, which is within the castle walls. (Fig. 2) Carol took a nice photograph of it from an employee housing parking lot because there is no grand entrance to this church. This is the church where Prince Henry and Meghan got married. It was smaller than I had expected.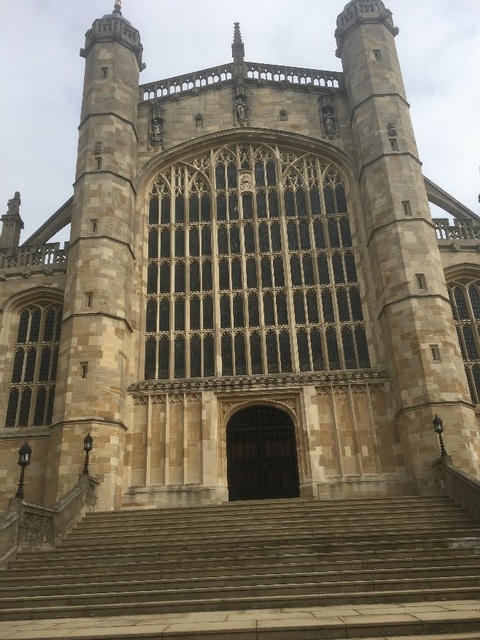 Figure Two: St. George's Chapel on the grounds of Windsor Castle.
[Photograph by Carol Kant]
A high school choir was practicing, probably for a performance later that day. Many kings and queens are buried in the chapel, including Henry VIII, the present queen's parents and grandparents. I wonder if Queen Elizabeth will choose to be buried there also. What fascinated us was the number of employees who live within the castle. One was coming home, in her car, with her three kids in tow. There were bikes and toys on some of the small porches. Some of the residents did not have good window coverings, and you could look inside at their tremendously messy homes! If I lived in a tourist attraction, I would invest in good drapes, or make sure that the kitchen was not a disaster!
Windsor Castle has no place to eat unless you are a guest of the queen and get to eat in her dining room, so we wandered into the town to find lunch. Windsor is a cute little town, but it is in the flight path of Heathrow, so a plane flies overhead about every 5 minutes and they are loud.
There were a lot of shops and restaurants. I was in the mood for pizza by the slice, so we decided to head towards a place called Pizza Express which sounded promising. Despite its name, Pizza Express was a sit-down restaurant. Disappointed, we moved on and settled on grab and go from Marks & Spencer, which is like a Penney's with a grocery store. The sandwiches we got were fine, and we ate them outside on a relatively nice spring day.
As we had shopped a lot the day before, we were not really in the shopping spirit and only stopped at a few stores. Near the end of the shopping district, we saw a German bakery-restaurant called Jung's, which is my mother's maiden name. (Fig. 3) The Jung family for this store was originally from Switzerland. Ironically, this restaurant had flatbread pizzas to go, so it was too bad we did not see it when it was lunchtime.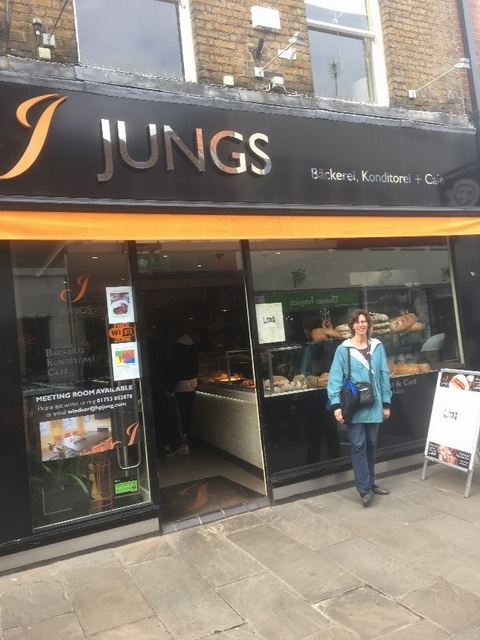 Figure Three: Holly in front of Jung's.
[Photograph taken by Carol Kant]
We decided to head towards the train station and take the train back earlier than expected. As we were walking towards the train station, we saw a store that advertised clothes at the £5, 10 and 15 price points. Intrigued, we went in. It was a pop-up store, housed in what used to be a fair-sized clothing store. The items were indeed that price, and Carol tried on a dress that would have been suitable for homecoming and cost only £5. It fit her and she liked it, but she questioned the ethics of the store. Where did the clothes come from to be offered at that price? In the end, she decided that the clothes may not have been legally obtained, and decided not to spend her money there.
The train ride back to London was uneventful. We got back relatively early, but there were no good attractions near Paddington Station. The neighborhood did not look interesting enough to explore. We walked back to the hotel and met Heidi, who was happily back from a day at the British Museum and the British Library. She gushed over the Rosetta Stone and the other antiquities she had seen.
The three of us decided on Indian food for that night. The food was spicier than expected. We had mistakenly thought that it would be less spicy to accommodate the British palate.
Sunday, Carol and I headed towards the British Museum while Heidi went to the National Gallery and the National Portrait Gallery. The museum galleries open at 10 am, but the lobby and gift shop open earlier. We got there early and went to the Rosetta Stone as the first thing when the gallery opened. The Rosetta Stone is only a few feet from the door to the gallery. We were literally crushed by the other tourists who wanted to see it. There were many Japanese tourists spending lots of time taking pictures. I never got to the front row of spectators, only about two rows back.
Sick of the jostling, I decided to try to get out and see something else. As I tried to leave, I was being pushed forward towards the stone again. I actually had to yell "I'm trying to get out" so that people would let me leave! You would have thought they would want me to get out of their way!
We headed next to the Elgin Marbles exhibit, which had been removed from the Parthenon in Athens by the British. Late last century, about half had been repatriated to Greece, so the galleries looked empty. It just made me sad that the treasures had been pulled off the building and taken, so I really could not enjoy them.
The rest of the museum was crowded, but not to the point where you could not see anything.
The British Museum is chock full of items from over several millennia. For example, instead of having five or six Greek vases on display, there will be 50-60 of them. Every exhibit was item overload, so after a while we just walked through galleries rather than stop and admire each object. To do the museum right, reading every label, would take days. We stayed about two hours.
Our favorite exhibit was on telling time through the ages. Clocks and watches of various time periods were on display. One of the items for the "modern" era was a Sony clock radio circa 2008. (Fig. 4) Ironically, I have the same clock radio at home; I bought it at Target a few years back. I could not believe that my clock radio was a museum piece! I hate the clock radio; it is so difficult to set the alarm time, so I was surprised to see it in a museum! Or perhaps the curator had bought the clock radio for their home, hated it, and decided to donate it to the museum.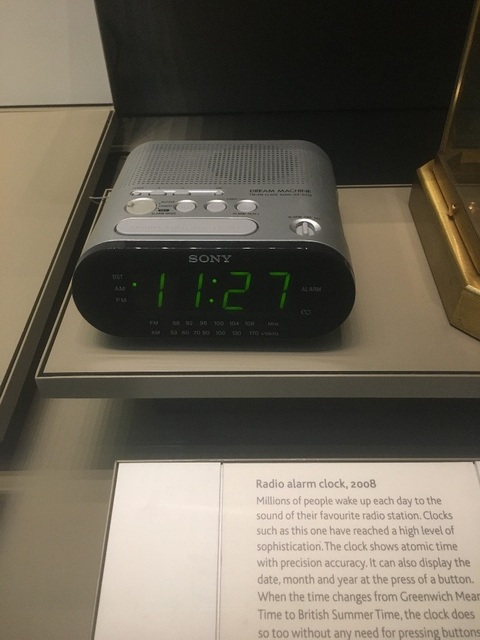 Figure Four: Our clock radio in a museum!
[Photograph by Carol Kant]
When we were done roaming about the British Museum, it was about noon, and their cafe was a pizzeria. We decided to order a pizza from there and split it; it was pretty good.
For the afternoon, we had a dilemma. Carol wanted to tour the Spencer House (the ancestral home of Princess Diana's family), but I was tired of admission fees. I won; we went to Sir John Soane's Museum, which was free. Sir John Soane was an architect in London in the late 1700's/early 1800's. He was a collector of Greek and Roman statues. In fact, he bought a sarcophagus that the British Museum had passed on because it was too expensive. He owned a townhouse in London and bought the townhouse next door to house his museum. An act of Parliament donated the houses and their contents to the government with the provision it was to be left just like when he died, and it was always to be a public museum. There were no signs or labels on anything, just like Sir John wanted it, and the house was mainly intact except for the mandatory gift shop and some modern-looking rest rooms. It was worth checking out.
We then walked past the London School of Economics which is on Carol's list as a possible junior year abroad school. It was an urban school with mostly buildings converted from their original use into classroom buildings.
After this, we walked to Covent Garden. We rested in the lobby of the Opera House, but decided not to tour it. Covent Garden used to be an open-air food market; it is now home to artsy shops and restaurants. There were public entertainers playing for donations. It was late Sunday afternoon and terribly crowded. We did not stay long.
We walked through Trafalgar Square down Whitehall to Westminster Abbey, passing the Parliament Buildings and Big Ben along the way. Big Ben was under scaffolding, so it was not much to see.
On the grounds of Westminster Abbey, there is a smaller church called St. Margaret's; we visited that. We were early for our next event, which was an organ concert at Westminster Abbey. Therefore, we sat in a park overlooking the Thames. We watched people walk well-behaved dogs that were not on leashes.
It is about $30 admission to visit Westminster Abbey, so we did a work-around. Sunday nights, there is a free 30-minute organ recital. We met Heidi at the Abbey for the recital. The organist played music I did not recognize, but the goal was to go into the church. We only saw the nave but it gave us a taste of the size and grandeur of the building.
It was about 6:15 pm by the time the concert was over, and the church is in an area populated by government buildings, not by restaurants. The few restaurants in the area were closed on Sunday nights. On the internet, we had seen a pub that looked interesting, had a vegan meal for Heidi, and was open on Sunday nights. However, the dining room only seated 40 people. Carol and I had checked it out earlier in the day and noted it was open. But when we went there after the organ concert, we were disappointed to find it had already closed.
There was really not anything else in the area, so we walked to the tube stop and went back to the area near the hotel. We picked a Thai place for dinner. Carol and I liked our meals, but Heidi did not like hers.
Monday was the pilgrimage to Oxford. Even Heidi came with us. For whatever reason, Carol has it in her head that she wants to go to school in England rather than the United States. She is not deterred by the fact that most Americans hate the British educational system or the fact it is so far away. She is awed by the old college buildings, the degree in three years, and the fact that all rooms are singles.
Why Oxford and not Cambridge? Both are difficult to get in as an international student, but Carol already knows she does not have the test scores for Cambridge. Both Oxford and Cambridge require a minimum ACT score of 32 which Carol has already scored above. In addition, Cambridge requires five AP tests with scores of 5. Oxford's requirements are less strict. She has only taken one AP, and received a 4, a good grade, but not good enough. Therefore, Carol's allegiance is to Oxford.
Oxford University is actually composed of 38 distinct colleges, each with its own name, campus, majors, and traditions. When applying to Oxford, you choose your favorite college, but it is possible you could be admitted to one of the others.
There are two ways to get from London to Oxford, by bus or by train. The train is quicker, but then you need to take a bus from the train station to the campus we were interested in, so we decided to take the bus which stopped right by Christ Church. The bus obviously has to go through London traffic, which made what was advertised as a 1.5-hour trip into an over two-hour-long trip each way. It was a double decker bus and we sat on the top level, so we got that experience.
Christ Church is most famous in recent times for being the spot where the Harry Potter movies were filmed. (Fig. 5) As such, it gets the most tourists and is the most expensive of the colleges to visit. But we found the "open sesame" magic words: "I am a prospective student." It got us free admission to all the colleges that charged admission, and got us into colleges that do not allow tourists in. School was not in session, so the only students around were international students who did not have the money to go home during break.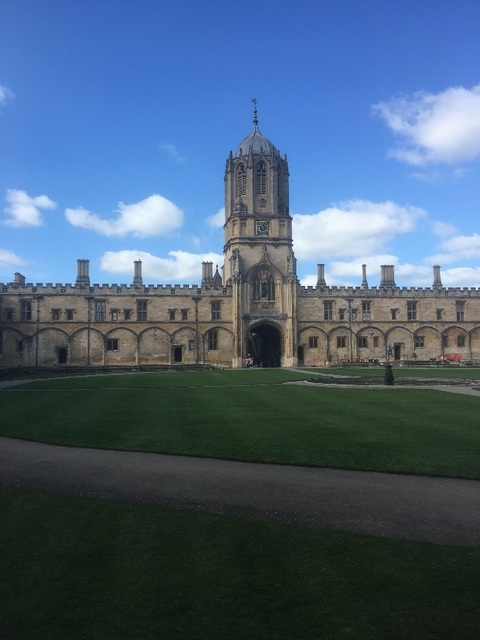 Figure Five: Christ Church College, University of Oxford
[Photograph by Carol Kant]
Most colleges are built around chapels, which varied in size and lavishness. Some colleges are richer than others, and have stained glass windows; other have plain glass. The dining halls vary in impressiveness. These is an impressive one that inspired the Great Hall in Harry Potter. There are less impressive ones merely decorated with portraits of former alumni.
We did not get to see any classrooms or dorm rooms. We only went to colleges that had economics as a major, as that is what Carol is interested in. We saw Christ Church, New College, Merton, Magdalen, St. Edmund's Hall, and Wadham. (Fig. 6 and 7) Carol's favorite was Christ Church, which is the favorite of all Harry Potter fans. Her least favorite was St. Edmund's Hall, which reminded her of a cemetery.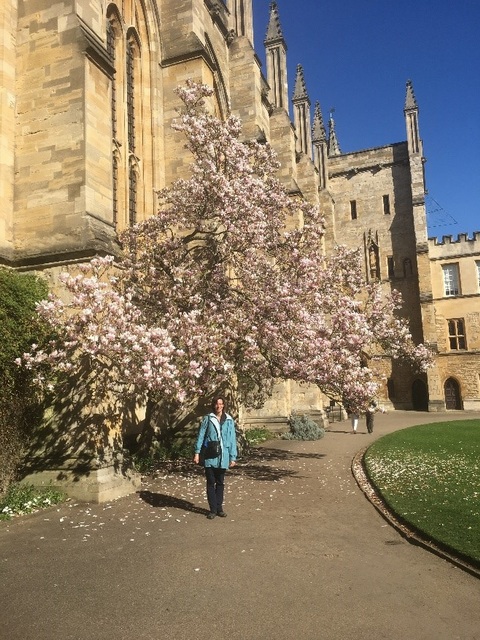 Figure Six: Holly at New College, University of Oxford
[Photograph by Carol Kant]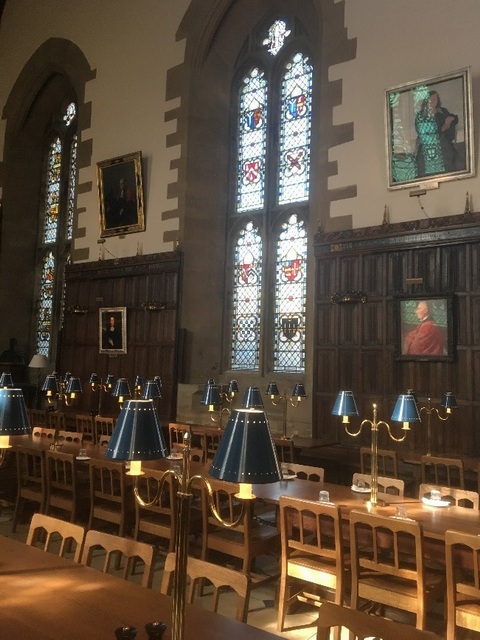 Figure Seven: Dining Hall at New College, University of Oxford
[Photograph by Carol Kant]
We also took a tour of the Bodleian Library which is a famous research library. It even has a room that can be used only by the royal family if they are at the library. We also stopped by the Ashmolean, the art museum of the University of Oxford. Heidi wanted a photo of Oxford; for some reason, she left her camera at the hotel room. She found a print of a painting that hung in the art museum. Later, we found out that the view in the picture was the same as the view from our bus stop. The only changes were the road was no longer cobblestone and the people were wearing more modern clothing.
Carol liked Oxford so much she bought herself a sweatshirt, something she had not done at any of the other colleges we have visited. That evening, she finally got fish and chips at a pub in Oxford that also had a vegan meal for Heidi. We got on the bus and got stuck in traffic at 8 pm trying to get into London.
Tuesday was our last day in London. Before we left from Ohio, we had bought tickets online to the Tower of London, as Rick Steves, an American travel writer and television travel show host, recommended not going there on a weekend. His advice was good because we got there relatively early, and walked right in without a wait.
It was recommended to see the Crown Jewels first, so we went right to that building. It was not crowded at all, so we got to look at all the exhibits and read all the labels without anyone else bothering us.
At the end of the exhibit are two moving sidewalks so that you can see one side or the other of the most famous crowns. It was so empty that we went on both moving sidewalks. Our only regret is that we did not watch the movie about Queen Elizabeth's coronation, which was playing in the room where the line usually was. It would have explained what some of the items we saw were used for during the ceremony.
By lunchtime, we walked past the Crown Jewels building again, and the line was out far past the door. Going right away saved us an hour in line. It is likely even worse on the weekends, making Rick Steves' advice understandable.
Next on our list was the Beefeater's Tour. The tour group was relatively large, but the guard's voice was booming so it was easy to hear. We learned about how prisoners were brought to the tower, some of the princes who may have died in the tower, and the notables who were beheaded within the tower walls rather than on the hill outside (where the less noble were beheaded in front of a crowd). We also suffered through some bad corny jokes, most of which were at the expense of Americans.
It took us the better part of the day to explore the grounds of the Tower of London, and we were not hampered by lines or crowds. We saw graffiti carved by prisoners (they must have had a lot of time, as they were intricately carved Bible verses in some cases), torture devices (not much used), and rooms where kings had lived. It was a nice way to spend the last day of our trip. When we left at about 3 pm, there were more lines to get in than we had when had come.
We spent some time looking at the Tower Bridge which was impressive. We then walked along the Thames and over to Leadenhall Market which was built in Victorian times.
After this, we took the tube back to the hotel and started to pack. It became time to eat supper. For days, we had passed a cute little Moroccan restaurant on the way from the tube station to the hotel. It had only been open one night, the night we came home from Oxford. We had hoped it would be open Tuesday night, but it was closed again.
Instead, we ate at Bella Italia again; there were two of them in the 0.4 miles between the tube station and the hotel. Carol had found if she signed up on their website, we could get a coupon for £5 meals. We showed the coupon to our waiter, who did not know which means it worked for because it was his first day. He had to call over two other employees to figure out the coupon. Finally, we chose our meals, and decided to pay using the pounds we had left. We did not have enough to cover the meal, so part of the meal was on the credit card. We certainly were difficult customers for his first day!
The final day, our flight home would leave at 9:55 am. It is recommended to be at the airport two hours early, and it takes about an hour to take the Tube to the airport. That meant we needed to leave at 7 am, which was before the hotel breakfast would be served. I looked at the Tube schedule, and found that if we left before 6:30 am, we would be traveling during off-peak, which made the fare 40% less. So, we got up early, ate a bite in the hotel, and dragged ourselves to the Tube station to get the off-peak rate. We got to the airport by 7:20 am, and each got back £5 for turning back our Oyster card.
We checked in and cleared security in less than 15 minutes. Our gate would not be announced until 8:45 am, so we had an hour to wait with £15 to spend. Each of us bought breakfast (I bought a protein bowl, so I had lunch).
We still had extra money, so Carol bought Joel a candy bar for when we got home. The leftover money was dropped into the coins for charity collection box.
After this, we waited until our flight got called. We were distressed to find that it was still a fifteen-minute walk to the actual gate! When we got to the gate itself, our flight was boarding groups 1 and 2. We were group 3, so we still had some time to wait, but right before they started boarding our group, a middle school tour group of about 50 people cut in front of us. When we got to the front of the line (finally!), we got sent to another line because something was not right with our passports. I never did figure out what the passport issue was because the airline employee in the next line just looked at the passport and shooed us on our way.
This flight was to Chicago and took about 8 hours. Again, it was daytime, so there was no reason to try to sleep on the plane. I did not watch any movies, but read two novels and a non-fiction book that I finished titled "A Brave Face." It is a book about Teeba Marlowe, an Iranian girl who had her face horribly disfigured by a bomb blast. She came to America for surgery, and was adopted by American parents. I judged her speech in a Speech and Debate competition (and yes, it was really good).
We landed on time in Chicago, walked about a quarter mile, went through customs, and then got on a bus to go to the domestic terminals. We had TSA Precheck, so going through security again was a breeze. The flight back to Cleveland was on time and uneventful. Flipping back to Cleveland time was pretty easy.
Overall, it was a good trip. I feel I got a good picture of London, and can cross that off my list. It also spoiled me for going on long trips without flying overnight, which is so much preferable.
THE END
---
Back to Joel Kant Home Page: Joel Kant Home Page.