***************************
Title: General Lee Automobile
Date Occurred: June of 2001 and August 17, 2002
Date Written: September 8, 2002
Date Prepared for Web Site: April 26, 2019
Written by: Joel T. Kant
Copyright (c) 2019 by Joel T. Kant
***************************
My wife Holly and I wandered a mall called the Galleria in downtown Cleveland some time early in the year 2001. We came across a software store. I found a game that I would have liked to get called "Dukes of Hazzard: Racing for Home" for the IBM PC compatibles. There was a problem. It required a considerably faster computer than Holly or I had at the time. I did not buy the game. Later in 2002, we got a new, much faster computer. I happened to find the game again and finally purchased it. It is not too bad a game, but does not use the proportional control steering wheel that I like for driving games, so needs to be used with the keyboard.
Holly was not impressed that I had watched the show, as she could tell by my interest in the game. I could hardly blame her for that reaction. It was a silly show that had poor continuity. Two cousins, Bo and Luke Duke, drove a bright orange Dodge Charger named the General Lee. In practically every show, their car had to go off a jump to leap over a river, ditch, fence, a squad car, or something of that nature. The situations were contrived. The existence of a ramp seldom made any sense.
Cars, even the Dodge Charger, were never designed to act as airplanes. When the General Lee landed in the show, it often had fenders, quarter panels, and so on visibly dent and collapse. I heard someplace that over 150 Chargers were destroyed during the five years this show aired. However, through the magic of simply cutting to a different camera perspective, the car was then shown to be clean, shiny, and completely free of any dents. It would be hard to come up with a better example of a television show as mindless entertainment. Nevertheless, I watched quite a few episodes back when it was originally airing.
In June of 2001, Holly noticed in the newspaper that there was a huge car show in Akron, Ohio on the grounds of the Stan-Hywet Hall. Holly wanted to see this mansion and its grounds and gardens. I wanted to see the cars.
The name of the mansion comes not from a family name, but means stone quarry in an old English language. A quarry used to exist on the property, and some stone extracted from it was used in the construct the wall around the estate. The Seiberling family, who made their fortune with the Goodyear Tire and Rubber Company, had owned this mansion. The mansion and grounds today are a museum and historic site owned by a foundation.
There were many cars at the show. There were many Ford Model A's and Model T's. There were many Ford Mustangs and Chevrolet Corvettes. There were cars from companies long since bankrupt. There were antiques, muscle cars, luxury cars, trucks, foreign cars, and so forth.
What I liked best was not a car at all, but a beautifully restored early Harley Davidson motorcycle. I forgot the exact year, but I believe it was some time between 1910 and 1914. (See Fig. 1) The lifters and rocker arms were external and visible. Holly and I watched as the owner started the cycle, then drove off.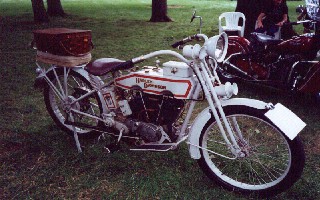 Figure 1:Early Harley Davidson motorcycle
[Photograph by Joel Kant]
Also at the show was a Dodge Charger that was claimed be one of the seventeen privately owned original General Lee cars used for actual filming of the "Dukes of Hazzard" show that survived after the show was canceled. A sign said that John and Jaki Jablonski and Rick and Paula Jablonski owned this General Lee. (See Fig. 2)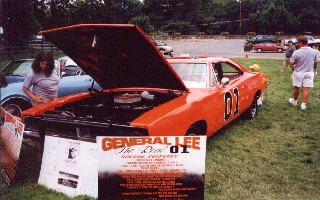 Figure 2:General Lee automobile
[Photograph by Joel Kant]
Inside the car was a folded Confederate flag in the front seat and a compound bow in the rear seat. (See Fig. 3) For the show, Bo and Luke Duke avoided using firearms, but instead would use a bow.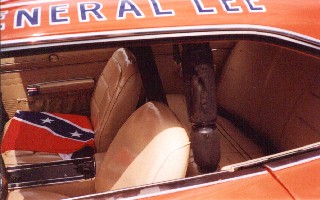 Figure 3: General Lee interior
[Photograph by Joel Kant]
Despite how silly the show had been, I still got a kick out of seeing an authentic General Lee.
This summer, Holly noticed that Valvoline Instant Oil Change on Day Drive in our town of Parma, Ohio had a display of movie and television cars as a promotion. I believe this was on August 17, 2002. These cars included the Delorean used in "Back to the Future," the jalopy used in "Beverly Hill Billies," the Ford Grand Torino used in the television show "Starsky and Hutch," the car used in one of the Flintstone live-action movies, and one of the General Lee cars from "Dukes of Hazzard."
Holly and I went to see the cars. There indeed was another General Lee. (See Fig. 4) The windows were heavily tinted. I suspect this was to protect the interior from sun damage. It did not have a sign explaining in detail the history of this car, as the earlier General Lee car that I had seen had.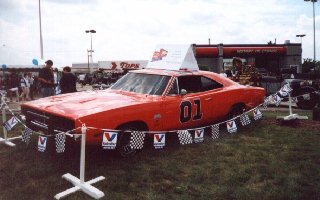 Figure 4: General Lee car at Valvoline
[Photograph by Joel Kant]
The jalopy from the "Beverly Hill Billies" was amusing. (See Fig. 5) Up close, one could see that it was not really in bad condition. The apparent rust and grime was painted on. The seemingly spoked wheels are not really spoked, but metal wheels with a hubcap that made them look spoked, painted flat black between the spokes. From a distance, it does look like a rundown jalopy.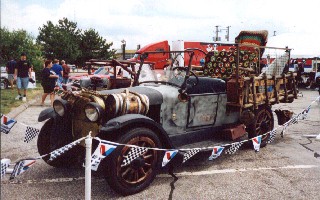 Figure 5: Beverly Hill Billies Car
[Photograph by Joel Kant]
I heard of the show "Starsky and Hutch," but do not recall watching it. The car was big and powerful. (See Fig. 6) It certainly looked fast.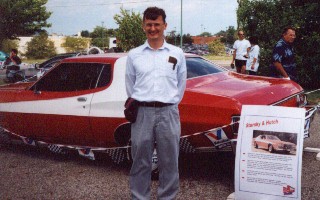 Figure 6: Starsky and Hutch car
[Photograph by Holly Mayer]
Although the Grand Torino at the Valvoline show was claimed to be one of the two original cars from the show itself, the sign also explained that due to the popularity of the show, Ford had made a limited production run of a thousand cars that looked the same.
A car that looked exactly like the authentic Starsky and Hutch car pulled to a stop in the parking lot. (See Fig. 7) Holly and I walked over to where the owner had just gotten out. I did not record his name, but he said that he lives in Parma, Ohio. He explained this was one of the limited production run cars. He had brought it to compare to the real McCoy.
The authentic car had aluminum alloy wheels. The limited production car had steel wheels with hubcaps that made it look somewhat similar. Other than that, the two cars were nearly indistinguishable.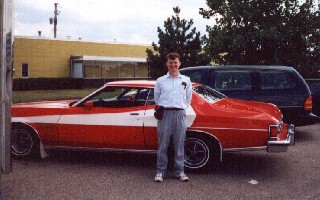 Figure 7: Joel by car owned by man in Parma, Ohio
[Photograph by Holly Kant]
THE END
---
Back to Joel Kant Home Page: Joel Kant Home Page.