*****************************************************
Title: Beaches and a Cement Pier at Sims Park in Euclid, Ohio
Date Occurred: June 29, 2019
Written by: Joel T. Kant
Copyright (c) June 30, 2019
*****************************************************
Starting around five pm on a sunny, clear, and warm Saturday, Carol attended a graduation party for one of her friends from the St. Ignatius Flag Corps. Carol still has one more year to go before graduating herself. She will be a captain in Flag Corps this coming school year, which will be Carol's last year on the team.
I drove her and Holly in my black Chevy Volt. If done without stopping, the drive from Parma to Euclid is about forty minutes, but we had stopped at some stores along the way. This had been planned and timed to deliver Carol at five pm. After dropping off Carol at her party, Holly and I went out to dinner in the same city. We do not get out to restaurants much. My choice was a cranberry and walnut salad, which had sounded great in the menu description, but the walnuts were sugar-coated. It tasted like a bad sugar-coated children's cereal. I have no plans to go back to that restaurant.
It seemed strange to me to be back in Euclid. I had lived in Euclid, Ohio for eight months from January 1992 through August 1992. I had not known Holly back then.
After dinner, I had thought Holly and I were going to time to drive out to Microcenter where I wanted to buy one of the new Raspberry Pi 4's. However, Holly told me the party was planned for a shorter time than I had realized, so we should stay in this city.
Therefore, Holly and I drove first to a lakefront park called to Kenneth J. Sims Park. After this, we drove about half a mile west to Euclid Park . (Fig. 1) While Sims Park is a sizeable place, Euclid Park is much smaller with hardly any beach. Despite this limitation, Euclid Park had a nice view of Lake Erie. The sun beat through dark but wispy clouds, making angel rays.
Figure One: View of Lake Erie from Euclid Park
[Photograph by Joel T. Kant]
After Carol had been at the party for about 1.5 hours, Holly and I picked her up. Holly and Carol did "texting" so that we would get her when desired, unlike how I would have just chosen a time. Instead of going straight to Microcenter, I decided to show Carol around Kenneth J. Sims Park where Holly and I had been.
Holly warned Carol, "Dad's going to take you on a trip down memory lane."
Carol seemed worried this would be boring and painful.
I explained that I had rented an apartment on a building on the shore of Lake Erie in 1992, and had not known Holly then. Where I lived was easy walking distance to this park. I pointed out the buildings on the shore that are easily seen from Sims Park. The buildings have since been renamed, but I think I lived in the second of the tall buildings that we could see. (Fig. 2)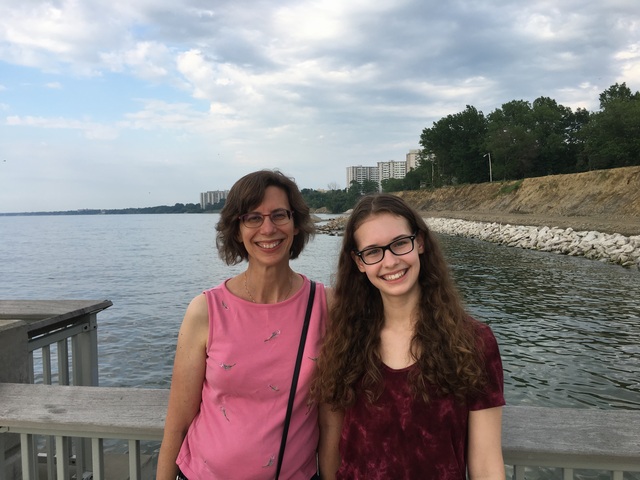 Figure Two: Tall Buildings Behind Holly and Carol
[Photograph by Joel T. Kant]
The building was about fifteen stories tall. The rent went up for every floor higher. My apartment was on the fourth floor. That was still high enough for a good view of the lake, but my rent was about a third less than what I had just been paying for a considerably smaller basement efficiency apartment in Arlington Heights, Massachusetts with the view of a residential street in front and a yard with a gravel parking lot in the back.
From where my apartment had been, the shore of Canada could be seen on a clear day using binoculars. At the beach level with the cloudiness of today, it felt more like looking over an endless ocean.
The large cement pier had not existed back when I lived here, but there were more changes than that. (Fig. 3) A sign referred to the pier going in in 2006. Another change was that where the sign has a blank square in the middle, I recall a similar sign having warnings about no wading when the bacterial level was too high. The warning got hung in the middle. I think it was either red or yellow, never anything else like green for safe. There was no warning out today with just a vacant space in the middle of the sign. Back in 1992, I do not recall even one time I visited this park when the warning was not out.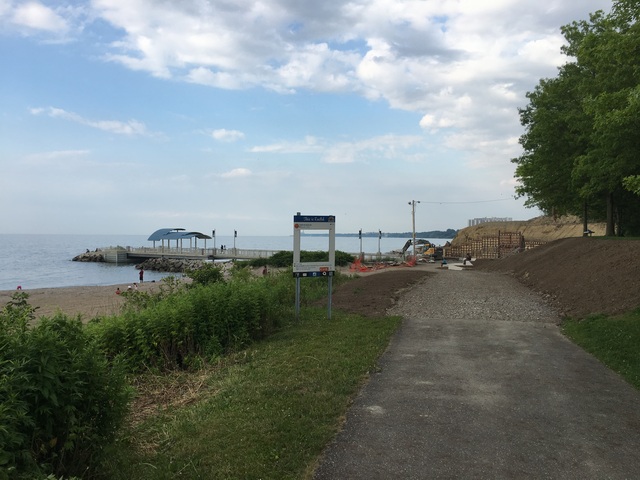 Figure Three: Large Cement Pier at Lake Erie
[Photograph by Joel T. Kant]
Yet, back in 1992, some people would wade or swim despite the warning. It seemed valid that there was no warning now in 2019 rather than the warning sign had been stolen. The smell was much better than it ever was in 1992. Today, there was a slight odor of fish and seaweed, but not of sewage like back then.
Holly and I had seen a large pipe at Euclid Park about half a mile west of this park. There had been a sign there that said that during heavy rainfall, sewage could overflow. The prevailing waves and winds would bring that from Euclid Park to where we were now at Sims Park. I had read in newspaper articles that the sewers in the Cleveland metropolitan area have been getting a major upgrade. Large raises in water bills for everybody in the county are supposedly paying for it. Out here in Euclid, it seems there might be some impressive return on that sewer investment.
The big boulders to prevent erosion with beaches back to the shore looked the same as they had in 1992. I saw people wading on the beach just like before. (Fig. 4) Yet, it seemed quieter even with the sounds of waves mixed with children having fun. I realized what was very different. There were no jet skis visible or audible anywhere.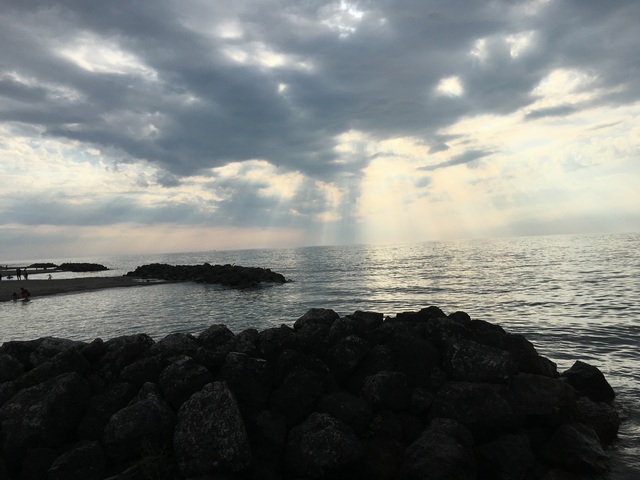 Figure Four: Big Boulders and Beaches
[Photograph by Joel T. Kant]
As I scanned the lake, I saw only one sailboat fairly far in the distance, one motorboat even further out, and very far off one ore boat. An ore boat is basically a large ship that could go on the ocean, but is called a boat rather than a ship when on the Great Lakes.
It had been twenty-seven years since I lived there. Had jet skis been a fad that had lost all their popularity in that time? This was a nice, warm summer evening. From what I remembered before, the water back then would be crossed back and forth with many jet skis, their motors loud like lawn mowers or motorcycles. Given how popular jet skis used to be, I figured there would still be a few who stuck at it even after this many years rather than none.
I figured it out, and told Holly and Carol. This big cement pier that was not here in 1992 was located where a boat ramp had been. From the former ramp, people with trailers on their cars launched their jet skis. A jet ski is far too heavy to carry from the current parking lot to the lake. It would take a strong person to carry even a kayak that far.
As I considered the lack of jet skis and motorboats that were visible in this area now, I had mixed feeling about the change. It is certainly quieter, but lake itself seems so less much used by watercraft. I wish the sailboats and kayaks could have remained, while the noisy jet skis had somehow been the only thing to go away.
Given how quiet this area of the lake is now without them and how the lake seemed so much more clean and wholesome-smelling with much less refuse on the shore, I suspect those paying rent in the tall lakeshore building that I once lived in pay far, far more than I ever did even if adjusted for inflation.
On the drive back from Euclid to Parma, we did stop at Microcenter. I was told the shipment of Raspberry Pi 4's with the larger memories like I wanted had arrived the day before, but sold out in less than two hours.
The distance from Euclid to Parma is too long for my Chevy Volt to make it purely on electricity. It has a range of about forty to fifty miles on electricity. Most of the way back, the "range extender" kicked in. That is just Chevrolet's fancy word for a gasoline engine powering our trip. Since most of my regular driving is within electric range, it seemed like something was wrong to have the sound of a normal gasoline motor purring under the hood. That the electric motor is so quiet in comparison made me wonder if maybe jet skis were electric like my car is for shorter distances, then I would like them! Maybe others would too, and that would let more boat ramps remain since it would not be a good thing to make the electric jet skis go away!
THE END
---
Back to Joel Kant Home Page: Joel Kant Home Page.